Beneath the Twitter radar…India emerges, quietly, as an economic superpower

Suchit Punnose
It's a funny old world: Saudi Arabia defeated Argentina in the World Cup (football version); Elon Musk bought Twitter for $44 Billion (more than the GNP of Botswana), then trashed the brand and showed 50% of his employees the door, and Britain appointed a new Prime Minister on the back of the smallest constituency since 1832, only to show her the door 45 days later. But you're a shrewd observer of events; I know you are, so you'll know that's just so much trash and tinsel masquerading as headline news in these social media times. Real change, the stuff that won't be relegated to a six-font footnote in future histories…well, it happens much more quietly and beneath the Twitter radar.
That's why it's so important to read between the lines…and we might usefully take India as an example.
Set against Musk's megaphones of nonsense, you'd be forgiven for thinking the subcontinent hardly mattered, but it does…it really does. So let's sweep away the tinsel and flotsam and take a closer look at some less sensational moments: let's take a look at what the fundamentals of sustainable change really look like (at least it'll make a pleasant change from the football).
India has just officially overtaken the United Kingdom as the fifth largest economy on the planet, projected to move up to third place within the next eight years (behind the United States and China), and that's being driven by tectonic change at ground level too, as billionaires like Gautam Adani and Mukesh Ambani, as well as Rishi Sunak's father in law Narayana Murthy, continue to build up huge reserves of wealth that have long since earned them a place at the super-rich top table. It's a very tangible sign of the subcontinent's emerging status as an economic superpower.
Another sure sign is the sheer breadth of the economic activity underpinning this growth: Gautam's Adani Group has its fingers in a bewildering number of pies, from solar power to NDTV television, and it won't have any trouble moving things around because the Group also owns thirteen ports and freight terminals across the subcontinent, as well as three logistics parks, and 14,000 hectares of industrial land (www.adaniports.com). It wasn't long ago that overseas interests would have owned all those ports and facilities… not anymore. That matters, too, because the subcontinent's positioning as a global distribution hub is a central plank of its future expansion.
At a governance level, too, things have changed beyond all recognition over the past twenty years. I remember sorting out the fallout of a customs investigation in 1998, where computer parts imported into and assembled (free of duty) in the SEEPZ zone were coming in (and out) fully assembled. Only one crate in thirty contained parts, and the all too pliable customs officer was bribed to open these and ignore the others until he got greedy and blew the whistle. The scheme was orchestrated by a major US computer manufacturer, that I won't name to spare their blushes: but I'm sure they've learned their lesson.
Most certainly, India learned its lesson, too, because that sort of systemic sleaze is now well and truly boxed up and consigned to the trash bin of history, as is the tortuous bureaucratic nonsense that disfigured commercial and public life on the subcontinent for so long. The sort of nonsense meant you couldn't call Mumbai from London for more than ten minutes at a time because of a set of exchange control regulations that had long since ceased to be fit for purpose.
A New Era
The Prevention of Corruption Act was amended in 2018 to criminalise the giving or receiving of bribes, a raft of modern compliance legislation followed in its wake, and (hurrah) India's Court's followed suit too, meaning commercial disputes could, at last, be resolved in real-time, benefitting from way more streamlined arbitration and mediation procedures in the process: gone are the days when a difference of opinion over the quality of a truckload of cement could hold up a major construction project for years.
But, of course, you'll have heard virtually nothing about that on Twitter (or any other western news channel, for that matter): it all happened quietly and with a solid determination to unshackle the vast potential of the fastest-growing large economy on earth.
As a result, the subcontinent's GDP grew by 13.8% in the second quarter of this year. Even though that might reflect something of a post-pandemic bounce back, the country remains on track to return an average 7% GDP growth over the course of 2022 (compare that with the UK's current negative GDP and the Bank of England's forecast of a two-year recession (which will be the longest on record: www.bankofengland.co.uk). At the same time, over in India, Prime Minister Modi's Government continues to support sustainable growth with a series of significant measures, including cutting corporation tax from 35% to 25% and opening up new opportunities for Foreign Direct Investment.
Eat your heart out, Liz Truss and Kwasi Kwarteng…although you probably won't hear about that on Twitter either (unless they actually do).
Executive Overview
It's so easy to be distracted by events that none of us are likely to remember in a year or even a week's time: social media has that effect on us all. And that's why it's important to read between the lines…especially when it comes to the silent revolution taking place in India.
Invest in Red Ribbon Asset Management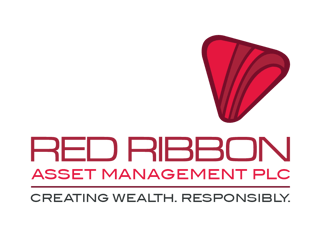 Red Ribbon Asset Management (www.redribbon.co) aims to harness the full potential of fast evolving and emerging technologies to meet the needs of global communities as part of a circular economy, fully recognising the compelling demands of planet people and profit.