It's all about Connectivity and Diversity…The Young Professionals Scheme matters: more than you might think

Suchit Punnose
Our precious planet gets ever more connected every day, but there's nothing new under the sun: especially when it comes to that most precious of resources…our children. For at least the last century, some of the brightest and best of India's children have taken to the seas and skies to study in the United Kingdom. And they returned to the Subcontinent with a richer, more profound understanding of how cultural and academic diversity can make the world better and more closely connected than ever.
Mahatma Gandhi, the Father of the Nation, studied law at University College London. He distilled homegrown Indian wisdom with English guile, which was crucial when he emerged to play his part in the independence movement. And India's first Prime Minister, Jawaharlal Nehru, nurtured his understanding of practical politics in the cloisters of Trinity College Cambridge, at the same time as that prodigious mathematician, Srinivasa Ramanujan, could be found (half a world away from Erode) pondering the secrets of the Universe on King's Parade. Two later Indian Prime Ministers completed their studies at Oxford University, Indira Gandhi and Manmohan Singh. And not just India, but Britain too is immeasurably better and richer for all they achieved. These are the still living links between the former mother country and the Subcontinent.
Of course, though, it's by no means a one-way street: George Orwell, William Makepeace Thackery, and Rudyard Kipling were all born in India and returned to England inspired by the cultural diversity of the Subcontinent: Mowgli and Baloo the Bear had a long life before Walt Disney bought up the rights, and they draw their quintessential charms from the perfumed air of Punjab. Vivien Leigh was born in India, and so were Cliff Richard (Harry Webb) and Julie Christie…all trailing India's splendorous as they headed west.
You get the message: we're better connected and more globally enriched when cultural values cross borders, even if (like Cliff Richard) they decide to do it by bus.
A Unique Asset
This corridor of world-class talent regularly passing between the United Kingdom and India has been a unique asset for more than a century, and it's more important than ever …especially when it comes to education. The former mother country continues to rank at or near the top of the list for most Indian students looking to study abroad, which is why, although not directly impacting relations outside Europe, the disruptions of post-Brexit Britain have posed such a challenge to the flexibility and vast potential of the talent corridor.
Pushing back against an increasingly inward-looking British Government (and the Home Office in particular), Narender Modi placed post-graduation two-year work visas front and center of ongoing trade negotiations with Rishi Sunak because he knows, more than most just how important that is for future economic relations between the two countries (and, to be fair, Mr Sunak almost certainly shares the same view: how could he not, bearing in mind his Indian heritage).
So here's the good news: after months and months of prevarication, the United Kingdom Government has finally agreed that young professionals from India and Britain can now "live, study, and travel" across the border between both countries for up to two years (www.gov.uk/). The new Young Professionals Scheme, the first of its kind, came into force on Tuesday. It will further enable that unique talent corridor to stay vital and valuable …not least through a continuing cross-fertilisation of cultural diversity.
The UK Immigration Minister, Robert Jenrick, certainly hasn't been playing its potential down: "The Young Professionals Scheme is a unique opportunity for British and Indian graduates to experience the richness of a new culture and way of life while building their professional experience and expertise. This new scheme illustrates the importance of our relationship with India and will benefit both countries greatly".
He got that one right… It's nice to imagine Gandhi and Nehru sharing a cup of tea with Srinivasa Ramanujan: smiling and drawing a sigh of relief.
Executive Overview
People matter when it comes to cross-cultural diversity and economic growth: we do things better when we do them together, and that's why I for one welcome the new Young Professional Scheme…it matters a lot more than you might think.
Invest in Red Ribbon Asset Management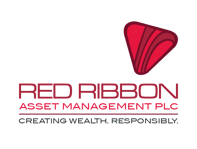 Red Ribbon Asset Management (www.redribbon.co) aims to harness the full potential of fast evolving and emerging technologies to meet the needs of global communities as part of a circular economy, fully recognizing the compelling demands of planet people and profit.