Out of the sandbox, into the light…Digital Rupee is set to outshine Britcoin

Suchit Punnose
Things just got serious: having launched the Sandbox initiative in 2019, following a sharp rap over the knuckles from the Supreme Court, dropping and adopting policies along the way to make Boris Johnson look like a model of consistency, Prime Minister Modi's Government has now finally made up its mind: there's going to be a ban on cryptocurrencies, and the Central Bank of India will be allowed to launch its own digital currency: what we've got used to calling the Digital Rupee now looks like becoming a reality…and, as it stumbles out of the sandbox into the light, it's in good company.
Britcoin and Blockchain
In April this year Rishi Sunak told the Bank of England he was actively examining the case for "Britcoin": later setting up "a new task force between the Treasury and the Bank of England to coordinate exploratory work on a potential central bank digital currency" (never use one word when twelve will do). But it's hard to overstate the significance of what that means: it will allow consumers and businesses to hold crypto accounts directly with the Central Bank, just as they're now planning to do in India, utterly upending the lenders role in the financial system, and unleashing Blockchain's full potential as a decentralised platform. Once implemented, it will speed up payments, as well as foreign currency settlements, significantly reducing financial stability risks in the process. So what's not to like?
Since then, of course, the Bank of England has announced (with typical stiff upper lip) that it will begin public consultations next year on a formal Britcoin launch, and doesn't expect the new currency to go into circulation until 2025: so the announcement from the Indian Government couldn't be more timely…it looks as though it will once again be stealing a march on the former mother country.
China Opens the Door
And India is getting a leg up from China as well, because Regulators in Beijing have joined forces with their own Central Bank to make all cryptocurrency trading illegal: no sign of a "RenminbiCoin" then, which is a stroke of luck because it's a bit of a mouthful…but as everyone knows by now, China's loss is India's gain: and the fastest growing large economy on the planet knows a good thing when it sees it.
Added to which it's not as though the new legislation in India is closing the door on cryptocurrencies either: a careful reading between the lines of the clunkily crafted legislation (www.legislative.gov.in) reveals the Modi Government has deliberately, and craftily, left itself room for "certain exceptions to promote the underlying technology of cryptocurrency and its uses": this, remember, from a country that has already shifted the balance towards a Blockchain enabled infrastructure on everything from land registration to (all important) agricultural subsidy systems…so eat your heart out Beijing: India is taking the lead.
The Market Moves
In September, El Salvador was the first country to accept Bitcoin as legal tender, but El Salvador is El Salvador…it isn't India, and it isn't even the United Kingdom. That's why the recent announcement from the subcontinent caused the El Salvador Dollar (or the Colon) to slump 25% against the Rupee on Wednesday, and, more impressively, the prospect of an official Digital Rupee has also triggered a 2.7% fall in Bitcoin.
So it's pretty clear where the World is going…we're finally out of the sandbox.
Executive Overview
Prime Minister Modi's announcement of a new Digital Rupee builds on existing international trends, but also places the subcontinent firmly at the leading edge of a tectonic shift in global markets.
Invest in Red Ribbon Asset Management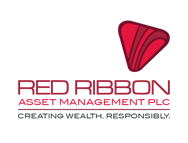 Red Ribbon is committed to identifying and building on investment opportunities that are fully in compliance with its core Planet, People, Profit policy: not only offering above market rate returns for investors but also protecting our Natural Capital.