The Princess and the Pearl…We've come a long way since the Raj imposed a Lockdown

Suchit Punnose
India has travelled such a long, hard, fascinating road to becoming the economic superpower it is today…and you only have to look at the intricate lives of its people and sense the glittering worth of what they achieved to understand what that journey involved fully. Take, for example, Princess Sophia Duleep Singh, daughter of the last Maharajah of Punjab (and goddaughter of Queen Victoria into the bargain), who would surely have heard family stories about how the blue-coated thugs of the East India Company snaffled the unimaginable wealth of the last Punjabi King (her grandfather) as part of a concerted drive to send most of it back to London.
And Little Princess Sophia would have watched helplessly, too, as the British Raj, playing the part of protector from unspecified "external threats", forced her mother and father into exile in Britain, separating them from everything they knew and loved about the Subcontinent. The King without a Kingdom was labelled an "ineligible bachelor", and all marriage proposals were dismissed out of hand because he was from an "inferior race". But Whitehall still refused permission for the young King (her father) to return to India, spouting concerns that his presence there could spark an insurrection…and so he eventually died, alone, in Paris.
But his daughter, Princess Sophia, was already kicking back: she was building shelters for migrant workers, personally attending to some of the more than a Million Indian Soldiers who were wounded in the Great War, and, above everything else, fighting for women's rights: both in Britain and back home on the Subcontinent. You can still find sepia-tinted images of her on the web…and they're a lasting credit to her Indian roots.
Her Sister Lina harboured Jewish children on the run from the Nazis, and her other sister, Bamba, became one of the first female doctors to practice medicine in the UK. But Princess Sophia was living on the edge: Winston Churchill described her as a "dangerous woman" because of her Suffragette proclivities (you can read about it in Anita Anand's splendid book: "Sophia: Princess, Suffragette, Revolutionary"). She's since been featured in a commemorative stamp set in the UK (the "Votes for Women Series" issued in 2018); her name's on the plinth of the Millicent Fawcett Memorial in London's Parliament Square, and only a month or so ago, English Heritage announced plans to instal a blue plaque at her former home in Richmond…that's how long and successful India's journey has been. It hasn't all happened in India: it's a global success story.
Meanwhile, and back in the present day, the leaders of the Quad Group have been meeting in Hiroshima as part of this year's G7 Summit: among them, another notable Indian, Narendra Modi…standing up for "peace and stability in the Indo-Pacific maritime domain" (with a not so subtle focus on increased Chinese expansionism across the region). But the Group of four (including the US, Australia and India) has also committed itself to further infrastructure development (and you know how important that is), as well as the creation of new undersea cable networks from the Bay of Bengal to the Pacific, and a new system for monitoring illegal fishing activities.
So it might have been a long journey (as indeed it has been), but India now finds itself at the cutting edge of global innovation…Princess Duleep Singh would have been proud as punch.
Executive Overview
We can tell much about who we are from the people we were; India, in particular, has a compelling story.
Invest in Red Ribbon Asset Management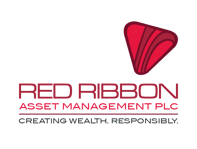 Red Ribbon Asset Management (www.redribbon.co) aims to harness the full potential of fast evolving and emerging technologies to meet the needs of global communities as part of a circular economy, fully recognising the compelling demands of planet people and profit.