Charting a Brighter Course in Darker Days…India still has a steady hand on the tiller

Suchit Punnose
You've probably noticed this already; how could you fail to, but the future isn't looking so bright for most western economies: in the UK, the heavily sanitised Consumer Price Index rose to 9.4% in June (the highest rate since 1982), and the actual underlying rate is almost certainly closer to 12%. Things aren't much better across the pond either, where inflation soared to a thirty-year high of 9.1% last month under Joe Biden's administration. These beleaguered economies have been increasing interest rates steeply to tame rising prices. However, the beachhead cost of gas is still going through the roof, and with war raging in Ukraine and Britain suffering from a Brexit hangover, food prices are inexorably heading the same way too.
Who would be a Finance Minister in these dark days?… Even the redoubtable Rishi Sunak has lost his job and seems to be struggling to find another.
Well, happily, at least one Finance Minister is charting a brighter course…and that's the (equally redoubtable) Nirmala Sitharaman: former (award-winning) sales assistant at Habitat in London, star accountant at PWC, Union Defence Minister (only the second woman to hold the post, after Indira Gandhi), and now India's second female Finance Minister (after Indira Gandhi…again), Ms Sitharaman doesn't seem at all daunted by the choppy waters that lie ahead on the seas of international commerce…and sitting at the helm of the fastest growing large economy on the planet, she has every reason to feel confident.
Despite the recent imposition of a 5% Goods and Services Tax (GST) on labelled and unbranded food items, a counterintuitive approach to inflation compared with the UK and the States, Nirmala has reaffirmed her intention to counter rising prices on the subcontinent: and, in any event, retail inflation in India eased to 7.01% in June (well below, and indeed reversing, the trend that's keeping Boris Johnson awake in the dog days of his Premiership). And with considerable justification, Ms Sitharaman has also pointed out that this specific increase in GST was a collective decision of the GST Council (made with the unanimous support of State Finance Ministers…they can't all be wrong…and, as it happens, they're not).
According to the International Monetary Fund (www.imf.org), Indian GDP is projected to grow by 7.4% at the end of 2023, despite fears of a global recession, and that's streets ahead of the UK and the US, which are projecting growth rates of 1.8% and 1.6% respectively for the year ahead.
Sector Specific Growth Strategies
All of which, of course, gives India more elbow room to look at sector-specific growth strategies, too: so over recent months, the Modi Government (under Ms Sitharaman's stewardship) has cut excise duty on fuel, reduced import duties on products ranging from lentils to nickel, and raised export rates on steel and iron ore to boost domestic supplies. So if you're looking for real-world evidence of her policies paying off…well, look no further than GST collections, which have now risen for the fifth straight month in a row (to Rs 1.4 Trillion), and loan default rates on the subcontinent (that other unhappy indicator), which are now at a six-year low.
A steady hand on the tiller can still make all the difference…
Executive Overview
Running a major economy these days can be like driving a car without a brake or a steering wheel…but Nirmala Sitharaman doesn't seem to be having any problems…she still has a steady hand on the tiller of India's economy.
Invest in Red Ribbon Asset Management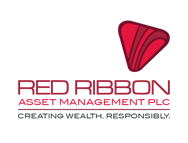 Red Ribbon Asset Management (www.redribbon.co) aims to harness the full potential of fast evolving and emerging technologies to meet the needs of global communities as part of a circular economy, fully recognising the compelling demands of planet people and profit.